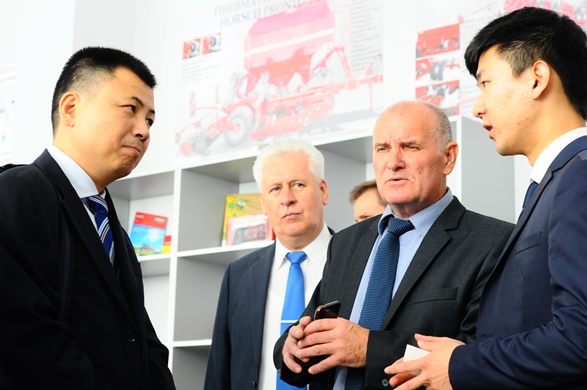 Chinese delegation to SNAU ITF
As a result of the recent summer visit of the SNAU Rector Volodymyr Laduka to the People's Republic of China at the invitation of the People's Government of Xinxiang City, Henan Province, a cooperation agreement was signed between the Sumy National Agrarian University and the University of Science and Technology.
The development of further relations was the current visit of the respected Chinese delegation to Sumy. In particular, they also visited the Faculty of Engineering and Technology of Sumy National Agrarian University.
Management Board: Sergey Melnychuk, Director of the Chinese-Ukrainian Life sciences Research Institute, CEO of Golden Egg, Lumeng Li, Director of the One Belt One Way Shi Chao Chan and members of the delegation were honored with the achievements and scientific developments the staff of the faculty.
The results of the scientific work of the leading professors of the ITF have caused great interest of the Chinese colleagues. and Lobody V.B. Their scientific interests are in one direction – physics and technology related to materials of machine parts planes. This topic is one of the cornerstones in engineering technology.
Due to the proposals of the Chinese side to establish a branch of Sumy NAU in the PRC for joint training of MBI specialists in Ukrainian-German educational programs "Agrarian Management" and "Agrarian Engineering" it was fruitful to get acquainted with the Center of Precision Agriculture at our faculty. They were shown the work of precision farming machines and presented the master's course "Precision farming systems".
The development of international relations is a sign of achievements of national scientific activity and a powerful impetus for the further work of the scientific community of the faculty.