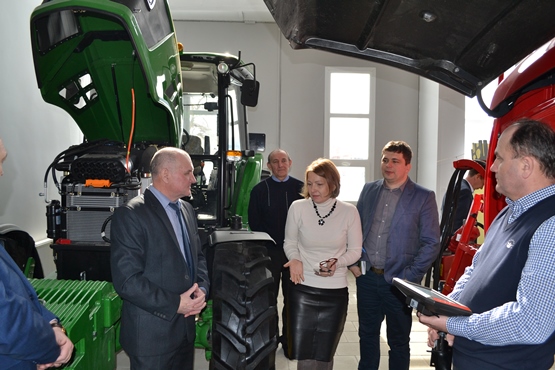 The outline created by the Sumy NAU takes on more and more realistic outlines
Center for Precision Farming.
During the visit of the Prime Minister of our country to the SNAU, the importance of the center of training highly qualified personnel for the use of modern technologies in the agrarian sector of the North-Eastern region of Ukraine was emphasized.
Most interested in such preparation is a large and medium-sized agricultural business, which sees a source of efficiency and stability in the use of detailed influences at all stages of growing plant products. The involvement of agrarian education institutions at different levels is appropriate in this process.
On March 20, 2018, a meeting "Integration of Sumy NAU and vocational education institutions in joint training in industrial specialties" was held at the Faculty of Engineering and Technology. The Deputy Chairman of the Sumy Regional State Administration Podoprigora MA, heads of profile departments, the center of vocational education and directors of a number of vocational schools of Sumy region participated in the working meeting.
From the SNAU – Rector, Academician Ladyk VI and the deans of the engineering and agronomic faculties.
At the first stage, the university specialists introduced the representatives of the regional management with the program "Precision farming systems" and the project of cooperation of higher education with the State Science Institute of Sumy region. In the second part of the meeting there was a constructive discussion with consideration of methodical, property and financial issues.
As a result of the meeting, it was decided: by the end of March 2018 to complete the project of creating a material base with the appropriate budget and to elaborate in detail the integrated curricula. And with reasonable joint decisions to apply to the regional council for inclusion of expenses on the center of exact agriculture in the budget of area.