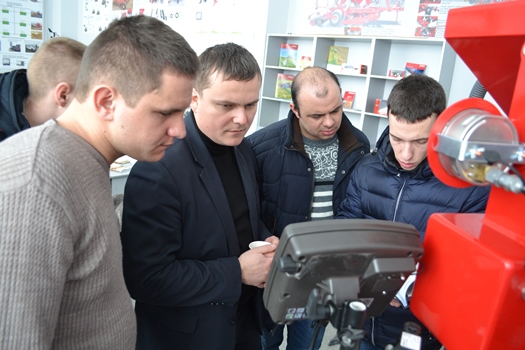 EDITIONAL AGRICULTURAL PROGRAM GETTING SPEED
Within two days, 5-6 March 2018, a meeting-training of leading specialists of engineering and agronomic services of agricultural enterprises of the Epicenter Company is held at the Faculty of Engineering and Technology of SNAU. The newly established crop production businesses favor advanced agro-technology in whole and precision agriculture, in particular.
In accordance with the program there are teachers of engineering and agronomic faculties of SNAU, service engineers of leading agricultural machinery manufacturers and specialists of farms.
During the sessions, theoretical positions, methods of tuning modern machines of the whole spectrum of crop cultivation of basic crops and invaluable practical experience are exchanged.
The SNAU Rector, Academician Ladyka VI participated in the work of the representative assembly. Sumy National Agrarian University becomes a leader in the combination of agricultural higher education and agribusiness.
The newly established Center for Precision Farming was praised and supported by Prime Minister of Ukraine V. Groysman. during his visit to Sumy. Plans for the construction of a closed winter landfill are being implemented for students and trainees to master agricultural machinery successfully. We hope that the joint efforts of the oblast administration, foreign sponsors and the university management will contribute to the development of the agricultural sector in the north-eastern region of Ukraine.