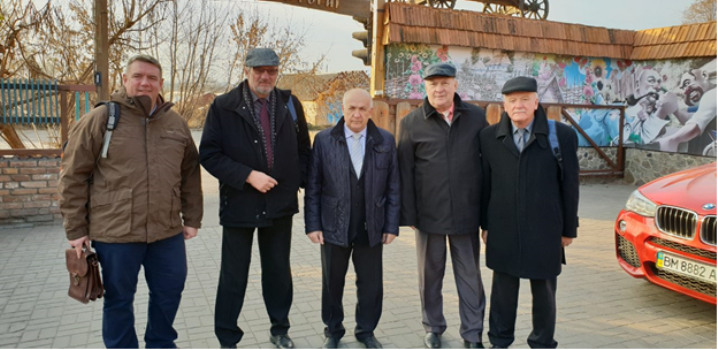 VISIT OF POLISH SCIENTISTS TO SNAU
On November 20, 2018 Sumy NAU paid a working visit to the delegation of Swietokrzyska Polytechnic in Kielce (Poland), composed of Director of the Center for Laser Metal Processing, PhD, Professor Bohdan Antoshevsky, and PhD, Professor Czeslaw Kundera. The visit was aimed at summarizing the results of the conducted research together with the scientific school under the guidance of Professor Tarelnik VB.
The results of the scientific collaboration in 2018 alone have resulted in the publication of a monograph and 8 articles in journals included in the Scopus 4 scientometric database, of which are still part of the Web of Science database.
The distinguished guests had a meeting with the Rector of SNAU Ladika VI, where they discussed the future strategic directions of the scientific partnership and the further ways of cooperation between the two universities of SNAU and the Polytechnic of венwiętokrzyskie.
At the Faculty of Engineering and Technology, guests were presented with the Center for Precision Agriculture, presented by ITF Dean Dovzhik M.Ya. and the Laboratory of Electro Vacuum Technology, headed by Professor Loboda VB
With the head of the department "Technical service", Professor Tarelnik VB Polish colleagues conducted further research in the field of obtaining functional coatings with resource-saving and environmentally friendly technologies.
In addition, the guests had the opportunity to get acquainted with the material base of Romany College of SNAU. A meeting with the student and pedagogical staff of the college, headed by the director Shevchenko OI, was held with the purpose of promotion and in order to promote the international scientific heritage of the SNAU. Who greeted the distinguished guests in the most sincere Ukrainian traditions.
Delegations were invited to join cultural and historical monuments, including the common. Thus, an excursion was made to the mammoth monument in the village of Kuleshovka, in the Nedryhailivsky district, where the border between Poland and Russia was crossed in 1841.
The guests visited the famous Scythian mounds at the homeland of the last Koshaman of Zaporozhye Sich, Peter Kalnyshevsky in the village of Pustovytivka.
The meeting was fruitful and meaningful, outlining ways of further cooperation between the two higher educational establishments of SNAU and the Polytechnic of Swietokrzyska in Kielce.