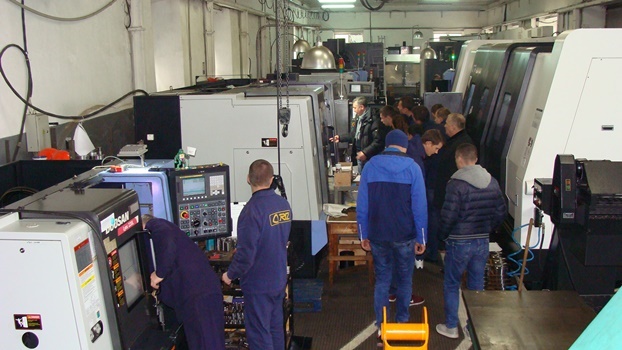 LABORATORY AND PRACTICAL ACTIVITIES IN REAL PRODUCTION CONDITIONS
On November 15, 2018, in the framework of the program of conducting occupational training, masters of the Faculty of Engineering and Technology had the opportunity to get acquainted with the material and technical base of the branch of the department "Technical Service" at LLC "TRIZ", whose production facilities are located in the village of Boromlya.
TRIZ LLC ("Society for the Implementation of Engineering Tasks"), which is headed by Associate Professor of the Technical Service Department Martsinkovsky VS, is today a leading scientific and industrial enterprise with a complete cycle of design and production of high-tech machine-building products. The state-of-the-art innovative level of designing using more than 200 proprietary solutions, modernized production facilities, multilevel quality control of production, and most importantly, the high qualification of 140 engineers and workers allow TRIZ LLC to supply domestic and foreign customers with unique equipment that has no analogues not only in Ukraine, but also abroad.
Students, in mastering the discipline "Engineering Technology in the Industry", taught by Professor Tarelnik VB, got acquainted with the machine park of the enterprise, which is equipped with modern high-precision and high-performance metalworking equipment, including five coordinate vertically-milling machining center HAAS »; three three coordinate milling CNC machining centers from DOOSAN; a horizontal boring and boring CNC machining center of DOOSAN; CNC lathe with VIPER and two CNC lathes with DOOSAN.
During the real-world production, students had the opportunity to trace the entire product life cycle from the design, procurement, machining, to general assembly and quality control of finished products, which is competitive in the global market.