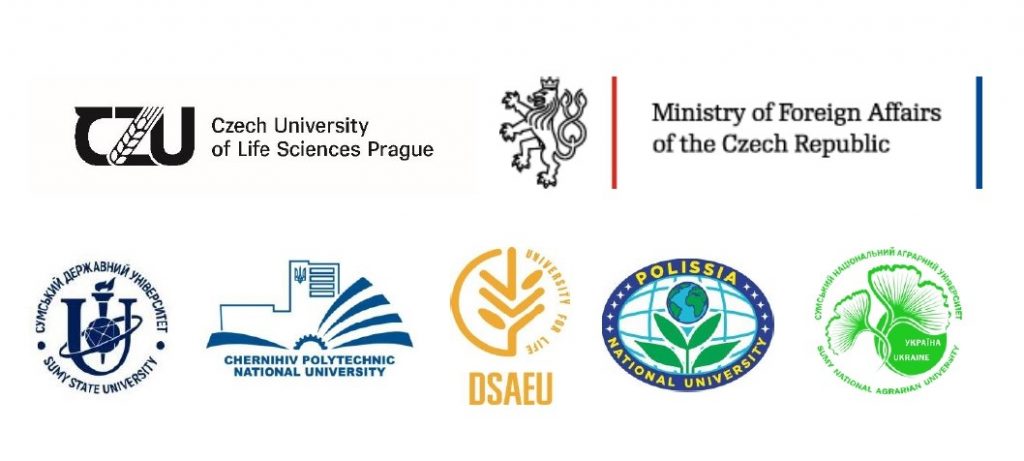 A New Joint Czech-Ukrainian Project is Launched to Support Qualitative PhD Research in 5 Ukrainian HEIs
Czech University of Life Sciences Prague (Czech Republic) and Sumy National Agrarian University will jointly implement the development project "ENHANCEMENT OF THE PHD STUDENTS POTENTIAL FOR QUALITATIVE RESEARCH IN UKRAINE" funded by the Ministry of Foreign Affairs of the Czech Republic during August-December 2022. The project is launched in the consortium with other 4 Ukrainian universities: Sumy State University, Chernihiv Polytechnic National University, Dnipro State Agrarian and Economic University, Polissia National University.
The head of the project from the Czech side is PhD, Adam Keshner, Technical faculty.
The project coordinator from the Ukrainian side for SNAU is PhD, associate professor Tetiana Khvorost, Faculty of Engineering and Technology.
The project is aimed at increasing the potential of PhD students of Ukraine through the advancement of their skills and knowledge of qualitative research, and through the provision of grant funding and the creation of an environment and tools for their guided practical implementation. The research of graduate students is planned to be built on the close cooperation of researchers from Ukraine and the Czech Republic, who will direct the PhD students to the best research ideas, advanced projects and standard European sciences.
The following activities are planned within the project:
Advanced skills and knowledge of PhD students in Ukrainian HEIs about designing and conducting qualitative research, applying for grants for it.
Scope: An improved environment where the PhD students will be mentored, supported by mini grants and equipment, and engaged in a research team and a study tour to Prague. The calls for the virtual class for young researchers, Academic writing course (English language) and research equipment purchase will be announced.
Advanced skills and knowledge of PhD students in Ukrainian HEIs about developing international cooperation and multidisciplinary research.
Scope: Research teams will be established to design qualitative research and publish their results. The call for the summer school and mini-grants will be announced. The call for mini-grants for research and the study tour to Prague will be announced during the virtual a months-long class for PhD students and researchers on "Practical Tools for Grant-Funded Research".
Follow the coming news to join the project activities within the next months.