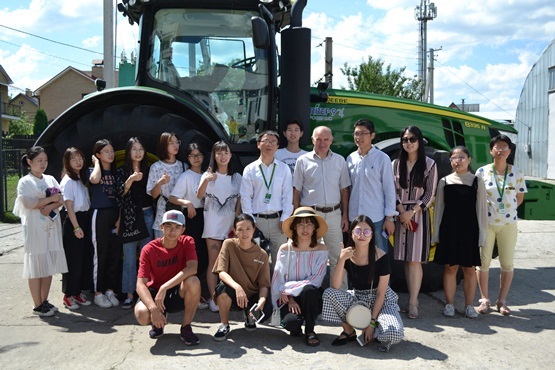 China 友谊 Ukraine
A summer academic semester in a group of Chinese students is underway.
They are acquainted and trained in all educational units of Sumy National Agrarian University. According to the schedule, it was also time to study at the Faculty of Engineering and Technology in modern fields in plant technology.
A few words about our guests, because in the long term – their full training in our classrooms and laboratories.
A friendly team of 14 students from the College of Agrophysical University, mostly girls, came to us. It is headed by its twoteachers: 1. XuYong; 2. WangHe.
Young people are happy to respond, to perform everything together – as it all reminds us, the older generation, of the Soviet era. They behave directly, without much brake, but disciplined.
In good faith, they carefully outline the new material and, apparently, only the language bar restrains the counter issues.
Substantive lecture on technological features and advantages of precision farming systems was read by Assistant Professor Zubko VM, Head of the Department of Tractors and Agricultural Machines.
Chinese students had the opportunity to complete the practical training with the assistance of specialists from Sumy Branch of Jupiter-9. Theoretical knowledge was anchored by them during adjustment and movement of the John Deere 6335 tractor, in automatic mode, under the control of the GPS, without the participation of the driver, on a given trajectory with a great degree of accuracy.
The wider our connections, the more we know the world.